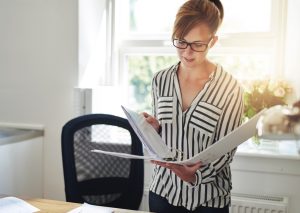 Businesses use documents for various reasons throughout the day, whether it is for their clients or to communicate within the company. Many companies could benefit from document management solutions in Cleveland. At Applied Laser Technologies, we want our customers to understand the advantages of using our services, so we compiled a list of benefits below.
Secure Document Sharing- Depending on your type of business, you most likely need to keep certain documents private because of the personal information on it. However, this could be a challenge when documents change hands multiple times throughout the day. We offer scanning, filing, and search solutions to help keep your data secure.
Reduce Paper Waste- Cut back on your company's spending by reducing the amount of paper waste throughout the entire business. Saving money is always an advantage.
Provide Customers with Instant Access to Documents- In order to best serve your customers, you need to grant them access to certain documents right away. You can turn to our staff to help you achieve this while maintaining the security of the documents.
To learn more about how we can customize document management services to meet your business's exact needs, give us a call at (216) 663-8181 right now.